Alfresco Day 2019: A digital outside needs to connect with a digital inside
Formica was present at the Alfresco Day 2019 in London. Read our takeaways here!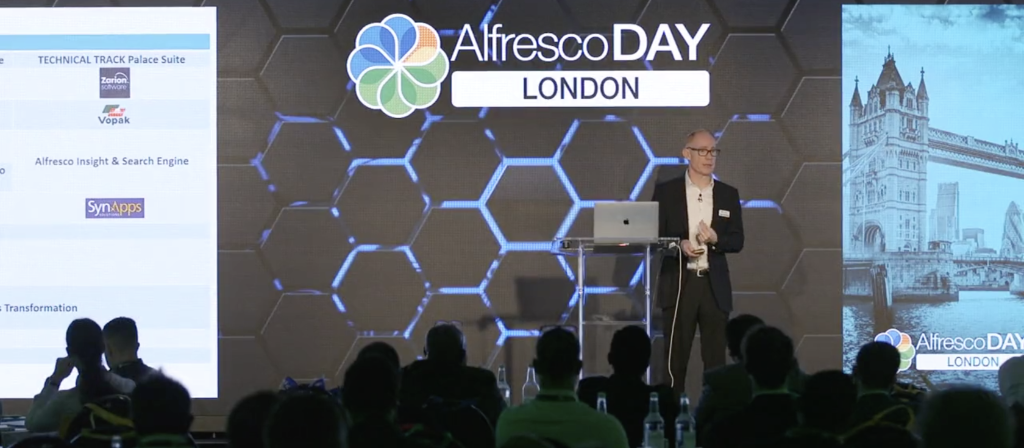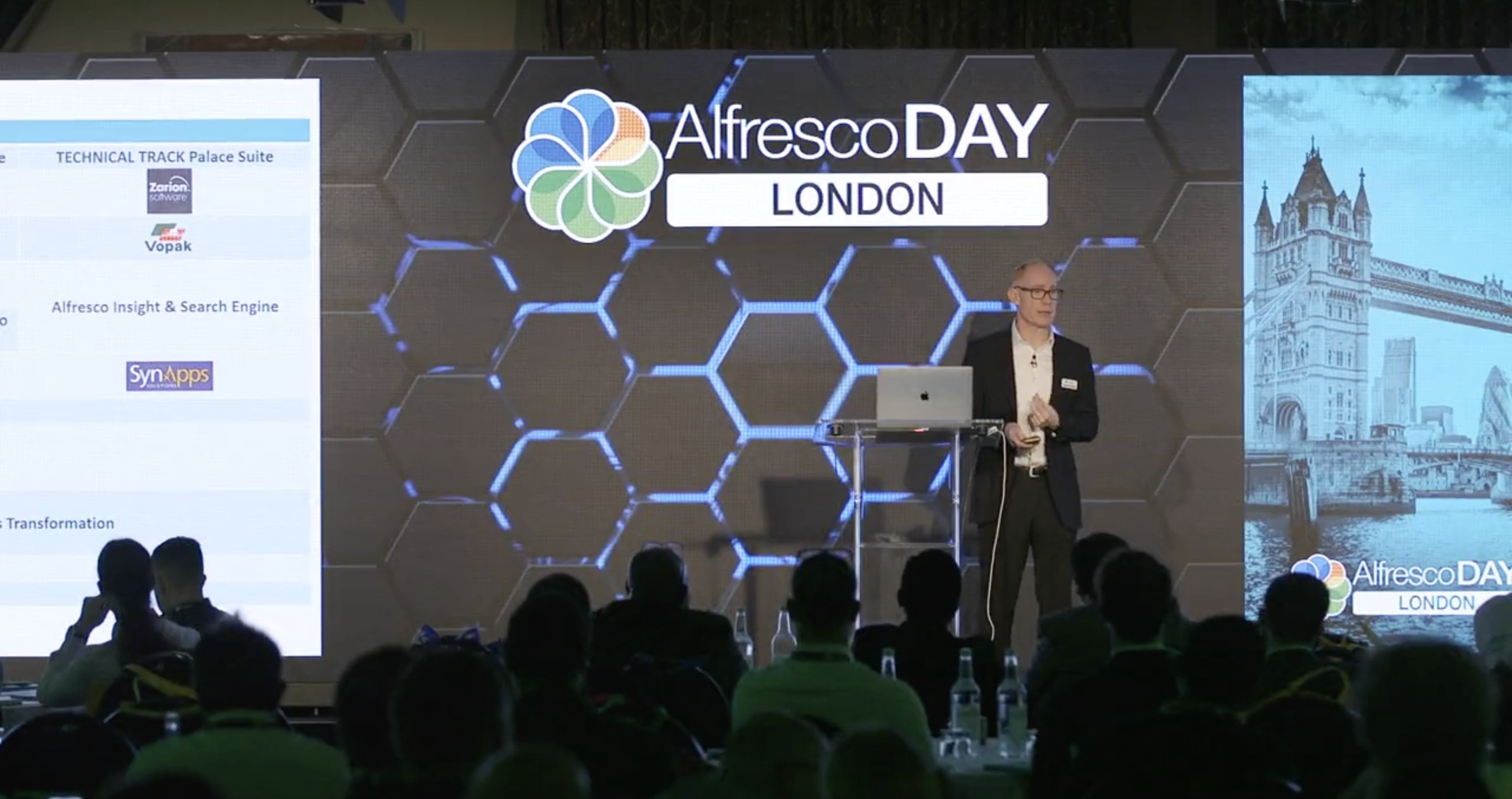 A digital world is on-demand and always on. Both governments and businesses are challenged by the expectations of citizens, customers and a new generation of employees. We need to rethink content management and business process management platforms to better compete and deliver end-to-end digital services.
Alfresco day 2019
The 2019 Alfresco Day in London emphasized on just this. Digital Operations and cloud-native solutions are the renewed focus of Alfresco. At Formica, we believe that truly digital operations provide organizations with an important competitive edge. As a Premier Partner we follow-up very closely on the Alfresco portfolio innovations and strategies for the future. The Alfresco Day global tour offers a packed agenda and an ideal forum to hear from Alfresco, speak with other partners and learn from interesting use cases
The day kicked off with some interesting insights on Enterprise AI from Alan Pelz-Sharp, IT-industry expert and analyst. He pointed out that there is no need for an army of data scientists in order to make sense of AI. The technology is out there as AI services are developed by leading tech companies. Run it out of the box, it will learn and adapt to change. But don't lose sight of it, take responsibility, AI needs human guidance.
The morning closed with the Alfresco Product Keynote, brought by CTO Brian Remmington and CPO Tony Grout. The 2018 private equity boost of T.H. Lee took out the wallet to engage senior leadership profiles aiming for fast growth in a transformational ECM market.
They enthused with a structured outlook on vision and direction. Alfresco will further build on their loosely coupled architecture, in whole positioned as their Digital Business Platform, with building blocks to deliver instant services and exceptional user experiences. Alfresco has a clear strategy for cloud-native services. From their perspective an answer to generally known market challenges such as the scarcity of talent, time to value and product innovation.
Over noon we had the opportunity to attend several customer use cases along with presentations from Alfresco UK partners. The Mintel Group use case, in particular, caught my interest as it showed a clear example of the benefits to be realized with a CMS platform at the heart of content management. Flexible and discoverable content, configuration of new products, streamlined workflows and simplified decisions. All of this with quality assurance built-in.
Alfresco and Artificial intelligence
After a late lunch break, the Alfresco senior product management team elaborated on further innovation with some specific Alfresco Digital Business Platform building blocks. With Alfresco AI Services f.e., Alfresco aims to put intelligent services to work to deliver more convenience and value from unstructured content as it continues to explode. These intelligent services include automated content enrichment and classification, challenges which will sound familiar to most ECM customers. Further investments will be made in Alfresco Process Services. Not only in the maturity of the underlying Activiti process engine, but also in bringing process-based applications to the cloud aiming to build out a Low-Code Application Platform as a Service.
Formica takeaways
At Formica, we look forward to growing with Alfresco and are enthusiastic about the focus on digital operations with a comprehensive portfolio of loosely coupled building blocks, cloud-native if you wish, ready for modern ECM architectures.
Here's a brief summary of some of the messaging and updates we took home - don't hesitate to reach out to our team of experts if you are looking for more in-depth information.
Content and processes which are tightly connected deliver information advantage
Exceptional experiences are created around content, making it a vital part of digital operations
Start with the human experience and build systems that support people to get things done
Look further than only the shiny interface, a digital outside need to connect with a digital inside
Alfresco delivers on a consistent roadmap embracing technology innovations like
Automated content enrichment with natural language processing or NLP analysis
Content classification with machine learning or ML models
Cloud-native solutions and platforms
Open integration and API toolkits
Further intelligence services based on Amazon AI
Formica delivers a broad portfolio of solutions enabling our customers to build secure end-to-end digital services. We connect your digital outside – the customer portal or web engagement platforms with a digital inside – the place where the work gets done. Delivering accurate information where it is needed, orchestrating work processes in order for your employees to complete their tasks and make the right decisions. All the while delivering a human centered experience. The robust Alfresco technology platforms help us to deliver this high quality, reliable and future driven applications.

Contact us