Proximus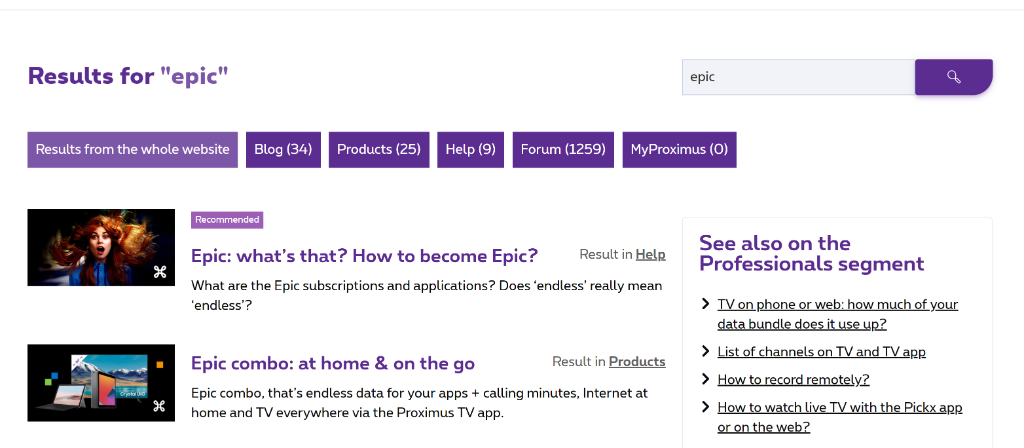 Business Challenge
The Proximus websites are vital communication and marketing channels to attract and inform customers. To facilitate a natural search experience, guiding customers towards relevant content throughout these different channels, a state-of-the-art search solution is essential.
Formica implemented the Google Search Appliance (GSA) years ago, but with Google decommissioning the product, Proximus urgently needed an alternative, with at least the same feature-rich search experience like filters, suggestions, synonyms and key-matches.
As trusted partner, Formica identified and implemented a flexible and future proof solution with Elastic Cloud Enterprise.
We opted for an MVP phase, implementing existing GSA functionality delivering into a tight schedule before GSA EOL. In the following phases, new requirements were identified, not only improving the digital content experience for customers, but also facilitating content editors to manage search result relevance and tuning.
Formica solution
Elastic Cloud Enterprise indexes content and metadata, providing a speed layer for instant search results, even during peak moments in website traffic.
Delivering search on websites, starts with indexing of all websites or web content management systems in scope. A thourough datamapping analysis lays the foundation for the way content can be searched and displayed.
We implemented web crawling, scheduled to automatically add updates and new content to the index. This application retrieves each web page and collects the most important keywords from the text in order to obtain the actual metadata from the page. Other content types, like links, images and videos are also indexed and referenced with metadata.
By building a search API we integrated the index with the content management system, so that search queries are handled instantly and deliver accurate and relevant results from all the available content on the different websites.
With search, the focus lays on users, experiencing and navigating content in a natural and frictionless way. Our solution, based on Elastic Cloud Enterprise, provides a state-of-the art enterprise search solution with features like:
Type-ahead, auto correction and key-match suggestions
A drop-down menu which directs suggestions to targeted sections within the website
Filtering on metadata (facetted search)
Document previews
About Proximus
Proximus Group (Euronext Brussels: PROX) provides digital services and communication solutions operating in the Belgian and international markets. Delivering communication and entertainment experiences for residential consumers and enabling digital transformation for enterprises, we open up a world of digital opportunities so people live better and work smarter. Thanks to advanced interconnected fixed and mobile networks, Proximus provides access anywhere and anytime to digital services, data and a broad offering of multimedia content. Proximus pioneers in ICT innovation, with integrated solutions based on IoT, Data analytics, cloud and security.
Proximus has the ambition to become the reference operator in Europe through next generation networks, a truly digital mindset and a spirit of openness towards partnerships and ecosystems, while contributing to a safe, sustainable, inclusive and prosperous digital Belgium.
In Belgium, Proximus' core products and services are offered under the Proximus and Scarlet brands. The Group is also active in Luxembourg, as Tango and Telindus Luxembourg, and in the Netherlands as Telindus Netherlands. The Group's international carrier activities are managed by BICS, a leading international communications enabler, key global voice carrier and leading provider of mobile data services worldwide. With 12,931 employees, all engaged to offer customers a superior experience, the Group realized an underlying Group revenue of EUR 5,686 million end-2019.
For more information, visit www.proximus.com and www.proximus.be
Contact us